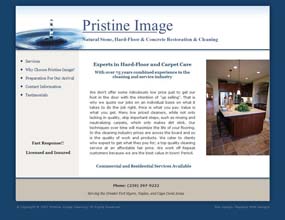 Pristine Image Cleaning


Web Site Design & Maintenance

Pristine Image Cleaning are experts in the Hard-Floor and Carpet cleaning business for both commericial and residential. Pristine is located in Fort Myers and serves greater Fort Myers, Naples and the Cape Coral areas.

HTML, CSS
Copyright © 1995-2008 Pegasus Web Designs. All Rights Reserved.